NEW ALBUM – RELEASED JUNE 2ND!
June 2nd is famous for many things  including Space Surveyor 1 Moon Landing (1966), Charlie Watts's birthday, Andris Berzins Elected President in Latvia (2011) and now our forthcoming 'Singles' album release.
PRE ORDER HERE – SHOP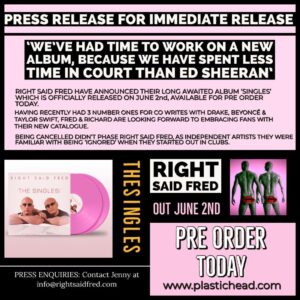 WE WILL BE AT THE CHRISTMAS FAYRE AT HOPE SUSSEX ! SIGNING OUR AUTOBIOGRAPHY !
FRIDAY 2ND DECEMBER 2022
FROM 03.00 PM – 07.30 PM
LOCATION :


HOPE SUSSEX
BATTLE ROAD ENTRANCE
NETHERFIELD TN33 9QB